This is a quick, comprehensive guide to help you use the InstantData API dashboard tools to their fullest potential. We'll discuss
What's on the Page?
API Documentation
The first is a green button at the top right of the screen. This is where you can access TowerData API documentation for each of our services. If you have questions about the technical aspects of our API setup, that button is for you.
API Monthly Summary
You'll also see an overview summary of your API usage, including:
Total API requests
Number of successful API requests
Number of failed API requests
Number of requests returning data
These are the key statistics of your API usage you'll need to be aware of when using the TowerData API.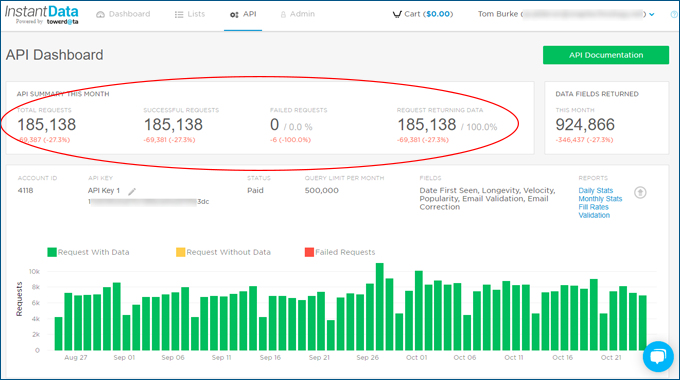 API Activity
Below this summary, you'll see a further breakdown of your account activity, as well as specific information related to your API keys.
This information includes your:
Account ID
API Key
Account Status - Free or Paid
Query Limit per Month - Your monthly limit depends on whether you have a test key or a paid key. Test key limits are 100 records per month. Paid key limits are variable and require a Sales team member's action to increase or decrease based on your agreement with TowerData.
The data fields your API key will return
Reports - The reports available will depend on the fields your key are configured for.
Additionally, on the far right, you will see an icon with an arrow in a circle. This is where you click to upload a file that will be processed via that API key, which is described in greater detail below.
API Reports
For each API key, you have access to free downloadable reports.
These reports include your:
Daily Stats: The number of successful API calls made and the number of fields returned by day.
Monthly Stats: The number of successful API calls made and the number of fields returned by month.
Fill Rate: Total number of matches found per field (age, gender, etc).

This number is a combination of all the calls made in a month, organized by month.

Validation: If this is a validation api, the validation report will be available and it will show breakdown of your validation results by month.
How to Upload a File Using Your API Key
It's simple to upload your files using your API key. To start and create your key, if you do not already have one, just follow these steps.
Once your key has been created, notice in the banner that the TowerData platform includes three main sections: Dashboard, Lists and API.
Step 1: Upload File(s)
Within the API Dashboard, navigate to the appropriate key you would like the file processed under.
Within the details for that key, notice the upward pointed grey arrow icon on the right margin (circled below). Click the icon to be presented with the Upload File page.
Then, drag and drop the file you would like processed into the upload area.
Note the 25-record minimum does not apply.
CSV is our preferred file format, but any plain text (ASCII) file with one record per line should be processed without error, as well. Unless the file only contains email addresses, please include a header row. A description of header values we recognize and further formatting information is in our api documentation.
Step 2: File Processing
The file will immediately begin processing for the services associated with the API key.
Step 3: Results Retrieval
When the file is complete, you will receive an email notification. That email will include a link to directly download results.
You can also obtain results by navigating to the List section of InstantData, selecting your list, then selecting the blue "Download Results" button at the top right of the page.
Reporting
Don't forget about the great reporting that's provided! Navigate to your API Dashboard and select from "Daily Stats," "Monthly Stats," "Fill Rates" or "Validation" to learn more about your data.

This is what a sample report looks like for Validation.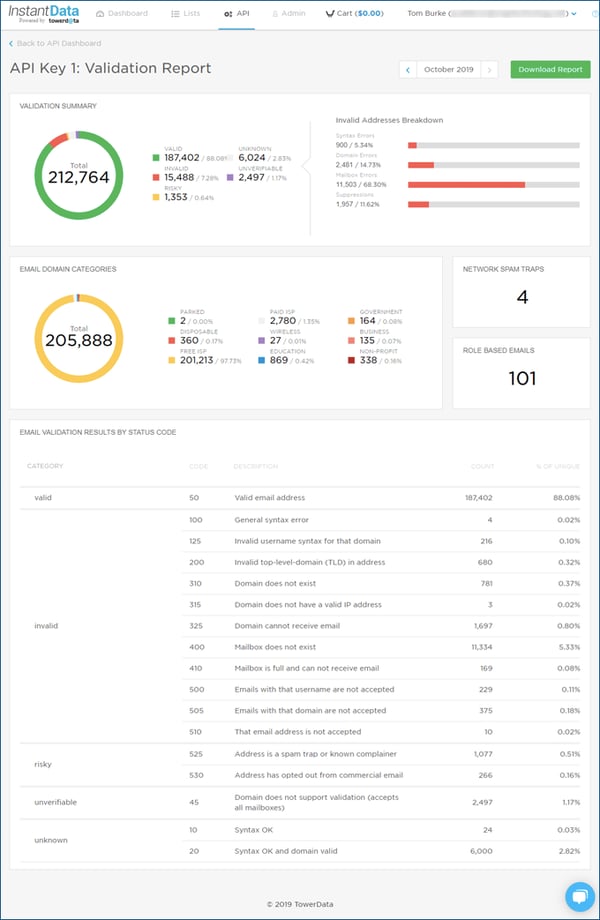 Questions?
If you have any questions don't hesitate to contact your account representative or support@towerdata.com.